Two women rescued from Ness Cove after landslip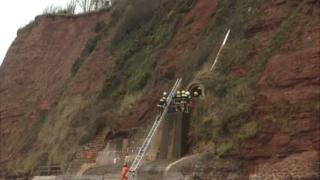 Two women have been rescued after being trapped on a beach following a landslide near Shaldon in Devon.
Part of the cliff at Ness Cove collapsed and blocked the way to a pedestrian tunnel leaving the women, one of whom is pregnant, stranded.
Devon and Somerset Fire and Rescue Service used a 30ft (9m) ladder to get the two women and their dog to the safety of the tunnel.
Paramedics examined the women "as a precaution", but they were unharmed.
Coastguards were alerted to the incident at about 11:00 GMT and emergency services, including fire crews, Teignmouth Coastguard rescue team, Devon and Cornwall Police and the Teignmouth RNLI inshore lifeboat were involved in the "awkward" rescue.
The Maritime and Coastguard Agency (MCA) said sea conditions were too rough to remove the women using the lifeboat and the cliff was deemed too unstable to carry out a cliff rescue.
There were also "further difficulties" in using a rescue harness for the pregnant woman, the MCA added.
After the women were rescued, fire crews remained on the beach with a sniffer dog until they could confirm that no-one had been trapped by the landslip.
Teignbridge District Council, which owns the beach and has landslide warning signs on the tunnel gate, said engineers had been sent to the site to assess the stability of the cliff and the extent of the damage.
It said it was too early to speculate on whether recent heavy rainfall had caused the landslip.
'Vulnerable' coast
The beach has been sealed off and will remain closed until further notice. Council spokesman Paul Clark said it would be reopened as soon as possible, but "realistically" that was unlikely to be until after the Easter holidays.
Peter Davies, from Brixham Coastguard, said some sections of the coast around the UK were "particularly vulnerable" to cliff falls and landslips.
"In fact, just a few minutes before this incident we had received a report of another landslip at South Milton near Thurlestone, South Hams," he said.
No-one was injured, but Mr Davies warned that people should exercise "great care" when walking on cliff paths or along beaches.