Police axe threat man Simon Birks detained in hospital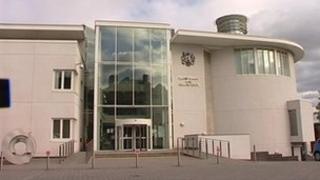 A man who attacked a police car with an axe and threatened an officer has been detained at a mental health hospital.
Simon Birks, previously of Axminster, Devon, admitted attempting to cause grievous bodily harm to PC Daryl Drew in a lane near Stockland on 12 April.
Exeter Crown Court heard PC Drew was lucky to escape unhurt as Birks swung the axe into his car five times.
The court heard Birks' life had changed after he sustained serious head injuries in a road accident years ago.
PC Drew was called to the country lane by two men who saw Birks standing at the edge of the road with an axe.
'Murderous attack'
The court heard Birks' first blow shattered PC Drew's laminated windscreen and the blade came within 12ins (30cm) of his head.
The second demolished the rest of the windscreen and the last three hit the bodywork of the police car as it drove off.
Birks was ordered to be detained after Judge Phillip Wassall was told that two psychiatrists rated him as a danger to the public.
The order meant he would not be released without the consent of the Secretary of State for Justice and would not be allowed to return to his home without consultation with fellow residents.
Judge Wassall said: "This is a sad case in which your life was changed fundamentally by a road accident in which you received serious head injuries many years ago.
"Had he [PC Drew] stalled the engine I have no doubt this incident would have ended in tragedy or certainly in really serious injury.
"It could properly be described as a murderous attack on the officer."
Lee Bremridge, defending, said reports from two doctors concluded Birks was suffering a schizoaffective disorder with symptoms of paranoia and florid psychotic episodes.