Devon farmers 'struggling to feed their families'
14 March 2013

From the section

Devon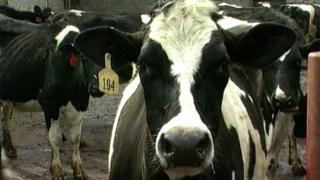 Some Devon farmers are struggling to feed their own families, a national charity has claimed.
The Royal Agricultural Benevolent Institution (RABI) said it had paid out twice as many grants so far this year than it did at the start of 2012.
The charity said after a wet summer and a wet, cold winter, feeding animals had become a "crippling expense".
Spokeswoman Phillipa Spackman said Devon had been worst hit "than any other county in the country".
"We are seeing a level of difficulty that I think most people would be shocked at," she said.
'Absolutely atrocious'
Ms Spackman said the reality was that farmers were putting their livestock's welfare ahead of their own and there was a "terrible irony" that in extreme cases, farmers could not afford to put food on their own tables.
Donald Arscott, a dairy farmer from Upottery, near Honiton, said he believed the reason Devon farmers have been so badly hit is because there were more small family farms.
The 67-year-old farmer described 2012 as "an absolutely atrocious year".
He said a "lucky window" of four days in May when dry weather had allowed him to fill his barn with silage for the winter, whereas his neighbouring farmer had suffered six weeks of "relentless" rain.
Without good supplies, he said, farmers had no other choice than to pay for expensive animal feed.
"If you've got limited funds, the priority is to put the stock first because if you don't keep them going, what will you have to sell to bring in the income?" he said.
Mr Arscott said the cost of his concentrated cattle feed had risen from £185 a tonne a year ago to £276 a tonne.
"When you're using 10 to 20 tonnes a month, that's a lot more money you have to find,
"What we need is a good summer and a good harvest of all farm crops - that would make a difference to the majority of farmers," he said.
"It won't save everyone because sadly some will fall by the wayside, so they should seek help now - pick up the phone and just ask."