Axminster Carpets: Special prayer written for redundant staff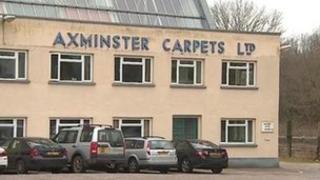 A special prayer has been written for hundreds of people who lost their jobs at a carpet company.
The Bishop of Exeter said he had asked clergy to pray for those who lost their jobs at the company's sites in Axminster and Buckfast when the company went into administration last Tuesday.
About three-quarters of the firm's 400 staff were made redundant.
Axminster Anglican minister the Reverend John Streeting said the job losses would affect many families.
Going concern hopes
He said: "It is very much a family firm.
"It's not just one individual in a family who might be affected, it could be two or three [who have lost their job].
"The prayer is so important."
The company, one of Devon's biggest private employers, went into administration after recent difficult trading conditions, bosses said.
About 100 employees have been retained but carpet-making operations in Axminster are being scaled down and yarn production at Buckfast has stopped.
Administrators said they hoped to sell the business as a going concern.
Former staff have been offered support by East Devon and South Hams' district councils in access to benefit and jobs advice.
The origins of the luxury carpet maker can be traced back to Thomas Whitty, who began making carpets and rugs in the town in 1755 using what became known as the Axminster method of weaving.
The first carpets were bought by the likes of King George III and Queen Charlotte, who visited the factory.
The Whitty family firm went out of business in the 1830s, but the tradition was revived in the town in 1937, when Harry Dutfield, the son of a Glasgow carpet designer, founded the current company.