Devon cottage hospitals' beds move 'paused'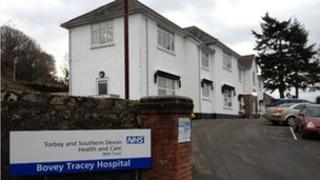 Plans to transfer inpatient beds from three Devon cottage hospitals to another town have been "paused", health managers have said.
The Torbay and Southern Health Care Trust had proposed to move 20 beds from Ashburton & Buckfastleigh and Bovey Tracey hospitals to Newton Abbot.
Critics of the move said such local services were vital.
The trust said it paused the move so it could analyse the feedback of a community consultation.
Pause 'a surprise'
The trust wanted to move the beds because it said the cottage hospitals were old buildings which were too cramped and had defective heating and drainage systems.
It argued Newton Abbot Hospital had "the latest facilities to help make an inpatient stay as comfortable, safe, pain-free and short as possible".
The trust said a board meeting due to debate the proposals on 21 March had been cancelled.
It said: "From the outset of this consultation, we have been committed to listening to the opinions, ideas and concerns of those we have engaged with.
"As a result, we have now made a decision to pause this process.
"It will provide the trust with some valuable time to fully consider the feedback so far."
Deputy mayor of Ashburton and campaigner John Nutley said the move "came as a surprise for people".
He said: "I'm very pleased for the communities. It has shown the trust have listened."