Plymouth bus stop 'could hinder 999 police'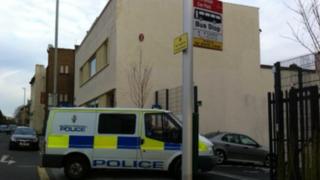 Police and Plymouth City Council have clashed over a bus stop outside a new police station's main entrance.
Devon and Cornwall Police said the bus stop in Fore Street, Devonport, was "not ideal" and emergency deployments could be "temporarily hindered".
The council said the bus stop was there when the police station was built and it could not be put anywhere else.
The £3.4m station, which opened last October, replaced temporary buildings in Marlborough Street.
Nearly 150 officers, including neighbourhood, response and local investigation teams, are based there.
But police claim that in emergencies, it could be difficult for officers in vehicles to get out of.
Bus conflict 'minimal'
A spokesman said: "We have been in contact with our partners at the council to discuss the possibility of moving the bus stop.
"We are hopeful that in the not too distant future we are able to reach a mutually satisfactory solution."
The council said no objections to the bus stop had been raised by police when the planning application was made.
"We have since received correspondence from the police authority enquiring about the possibility of moving the bus stop," it said.
"Due to the existing on-street parking used by residents and businesses, which is already limited, there are no possible options for a new location."
It added: "Due to the frequency that this bus stop is used, and the length of time it takes to drop off or pick up passengers, the likelihood of a conflict between buses parked at the stop and emergency vehicles leaving the police station under blue-light conditions would be minimal."
Plymouth City Bus said it was not aware of any incidents in which police vehicles had been blocked.