Work begins on A377 £7.75m link road in Crediton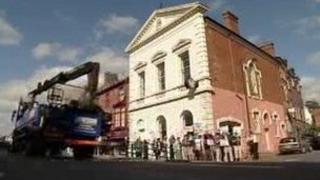 Work has started on a new link road in Devon in an attempt to cut congestion and improve air quality in Crediton.
The 760m-long (2,500ft) road linking Wellpark roundabout on the A377 to Marsh Lane and the Lords Meadow Industrial Estate, is costing £7.75m.
County councillor Nick Way said the project would ease congestion caused by a well-known traffic "pinch point" where vehicle exhausts caused problems.
The work, expected to be completed in 2015, includes cutting into a hillside.
Devon County Council unanimously approved the plan in January 2012 after a study said air quality was a problem for the town.
It said air pollution was a result of "frequent congestion, especially when large vehicles meet, combined with poor dispersion conditions for pollutants".
Mr Way said the road was a "big investment for the area" and a scheme that would "help the town in general."
Air quality would continue to be monitored after the road was completed, he added.