Plymouth marine innovation centre secures £2m funding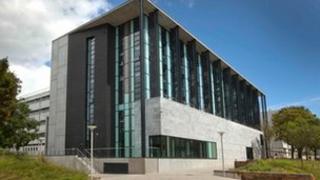 Funding worth £2m has been secured for a marine innovation centre in Plymouth.
It is claimed the scheme, based at the city's university, will create jobs and drive business growth in the region's marine, maritime and renewable energy sectors.
The project's aim is to increase the flow of knowledge and expertise between higher education and small businesses.
Council leader Tudor Evans said Plymouth will be England's "centre of excellence for marine matters".
Professor Julian Beer, pro vice-chancellor at Plymouth university, said: "The support provided by the centre will help businesses which have the potential to grow, to overcome some of the common barriers to innovation, including a lack of access to information, specialist skills, new technologies and also to key influencers in the industry."
Mr Evans said: "This means investment and jobs at the centre itself in the short-term, but the potential for growth and jobs in the long-term is limitless.
"It's incredibly inspiring to see our plans coming together before our eyes - Plymouth will be this country's centre of excellence for marine matters."
GAIN (the growth, acceleration and investment network) secured £880,000 funding from the European Regional Development Fund (ERDF) as well as a similar investment from Plymouth University and £200,000 from industry.