Axminster Carpets in administration talks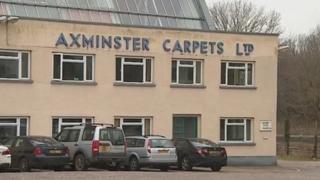 Axminster Carpets, one of Devon's biggest employers, has applied to go into administration.
The firm, which can trace its beginnings back to 1755, employs about 400 staff at its east Devon plant.
It said administration would provide "a moratorium period during which the various rescue options being explored can continue".
The firm would go on trading while solutions to its problems were sought, it said in a statement.
'Desperately sad'
The company said it had filed notice of intention to appoint Benjamin Wiles, Geoff Bouchier and David Whitehouse of Duff & Phelps as joint administrators.
Company director Joshua Dutfield said: "We continue to be committed to working to achieve the best possible outcome for all concerned and most importantly the staff and suppliers."
Tim Jones, from the Devon and Cornwall Business Council, said: "They just got to the point where the market wasn't with them and they didn't have that bit of luck to turn it round.
"It's desperately sad news for employees at a difficult time in the market generally.
"This doesn't just affect Axminster, they also have employees in the Buckfast area too."
Mayor of Axminster Andrew Moulding said it was "extremely sad and troubling news".
Councillor Moulding, who is also deputy leader of East Devon District Council, added the council wanted "to see a thriving economy in east Devon and we will do anything we can do assist the company in these difficult times."
The origins of Axminster carpets can be traced back to Thomas Whitty, who began making carpets and rugs in the town in 1755 using what became known as the Axminster method of weaving.
The first carpets were bought by the likes of King George III and Queen Charlotte, who visited the factory.
The Whitty family business perished during the 1830s - but the tradition was revived in the town in 1937, when Harry Dutfield, the son of a Glasgow carpet designer, founded the current company.