Planners reject Totnes wind turbines proposal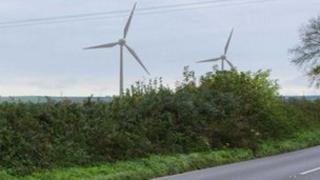 A proposal for two large wind turbines near Totnes has been rejected by council planners.
Sixteen voted in favour of refusing the scheme, three were in favour and four abstained in the meeting at South Hams District Council.
Supporters and opponents had gathered at the council's offices ahead of the planning meeting.
Many people in Totnes bought shares in the community scheme which was designed to provide power for 2,500 households.
'Terribly disappointing'
Totnes Renewable Energy Society (Tresoc) has 500 members They came up with the community turbines plan in partnership with Infinergy in 2010.
Nick Williams, a resident opposed to the plan, said: "We're delighted that they chose to reject the application. It's not as if it's the only form of renewable energy.
"In our own parish we already have a solar farm going up. We're not against renewable energy."
Tresoc wanted to build the turbines hear near Harbertonford, saying the site was far enough away from properties not to cause noise problems.
Jane Oddie, in favour of the plan, said: "It's terribly disappointing.
"In the view of all the floods we've had, we have to do something about our emissions and carbon footprints."
Tresoc said the two 100m (325ft) turbines were the sensible way forward, because smaller turbines produce much less power.
It said it would consider appealing against the decision.