Channings Wood prisoners 'in cells up to 20 hours'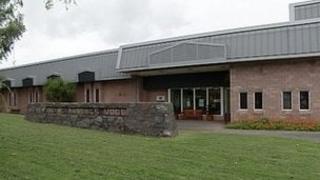 Inmates at a Devon prison are spending up to 20 hours a day in their cells because of a lack of activities, a reform charity says.
The Howard League for Penal Reform said the situation at Channings Wood, near Newton Abbot, was "concerning".
The group commented on a report by HM Inspectorate of Prisons which also said inmates could easily get illegal drugs.
The National Offender Management Service (Noms) said the prison was working to improve.
'Turn back on crime'
Andrew Neilson, director of campaigns at the Howard League, said: "Although this report is broadly positive, it is concerning that some prisoners are spending 20 hours a day stuck in their cells because of the lamentable lack of activities on offer.
"That education and purposeful activity such as real work is in short supply is particularly worrying in a training prison such as Channings Wood, which is supposed to be helping people develop the skills they need to turn their back on crime on the outside."
No-one was available to comment from the Category C training prison which holds about 730 inmates.
Michael Spurr, chief executive officer of Noms, said: "I am pleased that the chief inspector acknowledges that Channings Wood is generally performing well and provides a respectful and safe environment for the prisoners it holds.
"The governor and staff are working to further improve performance particularly with regard to purposeful activity as highlighted in the report."