Devon councils discuss recycling and bin collection changes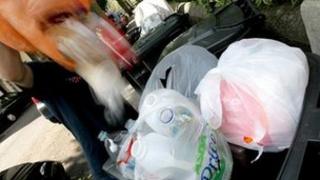 A recycling and bin collection service for the whole of Devon is being discussed by the county council.
At the moment each district council looks after its own areas' recycling and rubbish services.
The county council said the different districts already worked closely together, but it was keen to improve things.
A council spokesman said meetings had taken place but "discussions are at a very early stage".
'Reducing costs'
Devon has eight city, district or borough councils, which are each responsible for collecting household waste for recycling or disposal.
Neighbouring Somerset amalgamated the collection of rubbish from more than 200,000 homes in 2007.
Somerset's council said the move "was a big step in improving and harmonising recycling and waste services across Somerset and making significant efficiency savings - worth over £1.5m every year - through working as a partnership."
Steve Read, from the Somerset Waste Partnership, said: "People want and expect that things are pretty straight forward.
"When it comes to recycling, I know people do find it strange, when they move from one part of the country to another there are different services."
Richard Gomme, from the Devon Community Recycling Network, said: "Potentially it could be a very good move.
"That kind of money could be saved and put back into recycling even more. A unified service would help people understand about what they can and can't recycle."
Devon County Council said it was "looking at ways of working even more closely to improve service levels while reducing costs, but discussions are at a very early stage."
It added it was keen for councils to work more closely together.
Plymouth's unitary authority city council is also believed to be involved in the waste collection talks.