Corporal Michael Pike was unlawfully killed in Helmand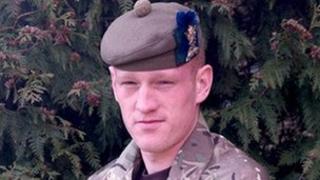 A soldier who died in action in Afghanistan was unlawfully killed, a coroner has ruled.
Cpl Michael Pike of 4th Battalion, The Royal Regiment of Scotland, had been travelling with his unit in Helmand province when they came under fire.
Speaking after the inquest in Devon, his mother said her son had "died a hero".
Cpl Pike, 26, has two children, Joshua and Evelynn, and had been deployed to Afghanistan in April 2011.
He had been sent with his unit to Pupalzay, along the Highway 601 in the Lashkar Gah area of Helmand province.
He was taking part in an operation to prevent insurgents from "intimidating the local population" and attacking an Afghan police checkpoint.
His patrol came under fire from rifles and rocket-propelled grenades.
Eyewitnesses said Cpl Pike, from Huntly, Aberdeenshire, "didn't go down without a fight" and was offering covering fire when he was killed.
He joined the Army in 2002 and after a tour of Iraq, he served in Helmand province in 2008.
His commanding officer described him as "the perfect example of a Highland soldier - loyal and fiercely courageous".