Scaffolding ripped off Axminster building by lorry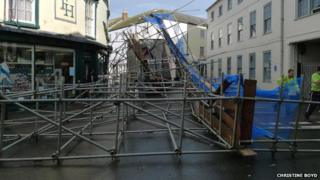 An articulated lorry has ripped 30ft-tall scaffolding from the side of a Devon department store.
The lorry crashed into the scaffolding at Trinity House in Axminster at about midday, police confirmed. No-one was hurt.
An onlooker said they were amazed no-one was injured as the scaffolding collapsed in a busy pedestrian area.
No-one was available for comment from Trinity House, which is thought to be the largest shop in Axminster.
Eyewitness Christine Boyd said: "It's extremely fortunate that no-one was working on the scaffolding or walking by as this is a busy corner for pedestrians visiting the town centre.
"One of the doors into the department store is located right beneath where the scaffolding was."