Deaf boy's parents angry at sign language lessons cost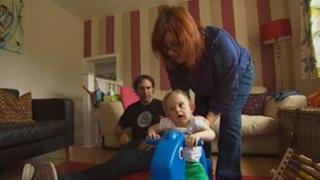 The parents of a profoundly deaf boy say they are angry they will have to pay £6,000 to learn sign language.
Rachel Goswell, from Exeter, said it was vital she could sign to Jesse, two, who also has a heart defect.
The National Deaf Children's Society (NDCS) said poor provision was "unacceptable" but that individual local authorities could choose whether to offer a free service.
Devon County Council said the family should contact its support service.
Ms Goswell said: "I'm really angry about it. I think it's wrong.
"As well as dealing with the diagnosis of your child being deaf, being told you have to pay to learn how to speak with your child is fundamentally wrong."
'Basic human right'
According to a report by NDCS, 56% of local authorities in England do not provide any sign language services for families while 44% provide various levels of support.
Jesse's parents, who recently moved to Devon, will have to pay £5,998.50 for the levels one, two and three of the British Sign Language course over three years.
Ms Goswell said that Exeter Deaf Centre offered half-price discounts for courses to parents, but added that they would not have had to pay anything if they had remained living in London.
Jesse's father Joe Light said: "We need to be able to communicate with him, and if that's kept from us then it's a detriment to his life and ours as well.
"When he goes to school he'll develop it far quicker then we will, so we need a foundation so we know what he's going on about."
Jo Campion, from NDCS, added: "Being able to communicate with your family is not a luxury, it's a basic human right.
"Many families that we speak to who use sign language are not being given the support they need and instead are being penalised by being forced to pay hundreds of pounds just to be able to communicate with their child."
Devon County Council said: "The family has only recently moved to Devon, and we have suggested they contact our hearing impaired support team to see if we can help."