Tom Daley 'an inspiration to other athletes'
11 August 2012

From the section

Devon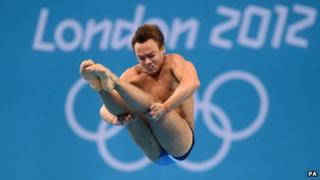 Medal-winning Olympic diver Tom Daley is an inspiration to upcoming athletes, according to one of his trainers.
The 18-year-old from Plymouth took bronze in the 10m diving platform on Saturday night after pulling off six superb dives.
Hundreds of supporters turned out to watch his final appearance at the 2012 Games on the BBC's Big Screen in Plymouth city centre.
Staff from Plymouth College, where Daley goes to school, also met up at the campus to cheer on their pupil.
Abusive tweets
Speaking before the final competition, Jon Rudd, director of swimming at the college, said that, whatever happened, Daley was "a fantastic role model" and an inspiration to the next generation of athletes.
He said: "It just goes to show what you can achieve if you are determined."
The diver's bronze is not the first success this Games for the college. Fifteen-year-old Lithuanian Ruta Meilutyte won gold in the 100m breaststroke on 30 July.
Daley made his Olympic debut in Beijing four years ago as a 14-year-old diving prodigy, and success since then - including a world title in 2009 - has led to high expectations of the teenager.
However, the 2012 Games have not been easy for him.
He and diving partner Pete Waterfield just missed out on a medal in the men's 10m synchro event on 30 July, finishing fourth.
Soon after Daley was at the centre of two cases of internet abuse after being sent messages on the Twitter website which resulted in two people being arrested.
His bronze medal success also comes just 14 months after the death of his father from brain cancer.
Robert Daley, 40, had been a constant at poolside during his son's career and had pledged to see him compete in London.
Dr Paul Freeman, a sports psychologist at the University of Exeter, said Daley had probably accessed a "mental toolbox" of strategies which helped him block out the distractions of abusive tweets and the disappointment of his medal failure in the synchro competition.
"I'd strongly suspect he's had training to block out any distractions, and he'd have clearly defined goals to focus on," Dr Freeman told BBC News.
"Only certain things are within his control - such as training and practising to execute the perfect dive - so it's about controlling the controllables.
"He can't control what somebody chooses to tweet."
Part of Daley's psychology could have been mental imagery and visualisation of how he could reach the goals he had set himself, Dr Freeman said.
"We call it the 'what if scenarios', which is what to do to reach that outcome.
"Representing your country at a home Olympics is a once-in-a-lifetime experience, so hopefully he enjoyed it for what it is."
After he secured bronze, Daley's supporters in Plymouth said he was sure of a great welcome when he returned to the city.
Dean Piper, 42, said: "I'm elated for him, so proud of him.
"He will get a real hero's welcome. For us, he is our hero and I just can't wait to see him."
Gymnast Bailey Hughes, 11, said Daley had inspired her to do well in sport.
"He did better than last night [in the heats], it was absolutely amazing," she said.