Derriford health workers fight 'pay change'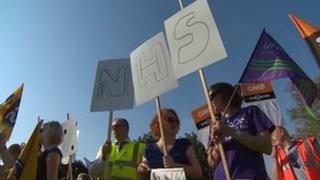 Workers at Derriford Hospital in Plymouth have been demonstrating over what they believe could be changes to pay, holiday and sickness benefits.
The protest is a response to Plymouth Hospitals NHS Trust's decision to take part in the South West Pay Consortium.
Unions say they believe staff are set to lose out and they will fight to protect their members.
The hospital trust said that at no stage had it discussed a cut in rates of pay.
The introduction of regional pay for NHS staff in South West England was suggested in a leaked document in June.
'Vital role'
The proposed changes were put together by local health trusts called the South West Pay Consortium.
If regional pay was introduced it would replace the current NHS national pay bargaining model.
Suzy Franklin, Unison branch secretary, said: "Our members feel they have played a vital role in helping the trust to achieve challenging financial targets.
"Unsurprisingly therefore staff at Derriford are extremely angry about the trust board's decision to work with this cartel, which intends to explore ways to cut their wages, their annual leave entitlement and their sickness benefits."
Helen O'Shea, interim chief executive at the hospitals trust, said the consortium was investigating "standardisation across the South West".
She said: "Our board has not at any stage discussed a percentage cut in rates of pay and indeed is not expecting to discuss any proposals until the end of this calendar year.
"It would absolutely not be in the interests of Plymouth Hospitals to make this a less attractive place to work and the South West is still actively involved in the national pay negotiations.
"Our board will not be taking any decisions that could impact on staff without full consideration and discussions within the trust, including with staff representatives and unions."
The government is considering introducing regional pay for public sector workers and the South West could be among the first areas to have it introduced.
Ministers believe the private sector suffers because of the current system. They argue public sector salaries in the regions are higher than the true market rate and so the private sector struggle to compete for staff.