Church of England congregation numbers rise in Devon
25 July 2012

From the section

Devon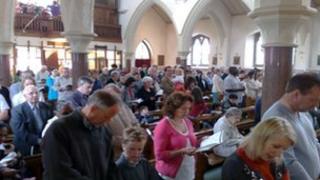 The number of people regularly attending church in Devon has increased, according to the Church of England.
Figures from the Diocese of Exeter showed a rise in numbers from an average weekly attendance of 26,800 in 2009 to 27,200 in 2010.
The diocese, which has 500 churches, is one of the few in England where numbers have risen.
A church spokesman said the increase was "modest, but really positive".
Paid clergy reduced
Neil Williams said it was difficult to quantify exactly why Devon had seen the "welcome" rise, while in other areas church numbers had been falling.
"I think it's probably down to the really exciting work being done in Devon - people are being engaged in the life of the church and that really seems to work for them," he told BBC News.
Despite, the rise in congregation numbers however, the Diocese of Exeter is having to tackle a £620,000 shortfall in funds.
At a recent meeting, the Exeter Diocesan Board of Finance discussed reducing the overall number of stipendiary clergy (those who are paid) from its current 211 to 190 full-time equivalent by 2020.
This will be done through "natural wastage" as ministers retire or leave. The Church of England cannot make ministers redundant as they do not have a contract of employment.
Mr Williams, who is the Diocesan director of finance, said that will mean calling for more volunteers and non-stipendiary, or lay ministers, who are happy to work for the church.
Other types of services may also have to be reduced, although David Cain, chairman of the diocesan board, said everything would be done to make the impact "as small as possible".
The diocese said, like most others in the UK, it has been struggling to collect funds and has had to use reserves it had built up to cover the shortfall.
On average, Mr Williams said, congregation members contribute £7 each per week and in the current economic situation that is not always easy.
"For some people it is an increasing struggle to pay and we acknowledge that many are giving very sacrificially," he said.
"But ultimately with the level of shortfall, we cannot allow it go on and have to find ways to address it.
As part of a public consultation on how to deal with the funding shortfall, the Diocese of Exeter has created an online form and a series of meetings will be held in September to discuss options.