Cousins get transplant go-ahead
16 July 2012

From the section

Devon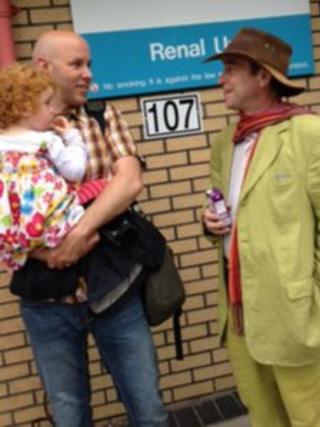 A man who has polycystic kidney disease has been told he can receive a kidney from his US cousin.
Andy Williamson, 44, who lives in Ashburton, Devon, has to have dialysis every day after a donated kidney failed in 2011.
His cousin John Williamson, from Michigan, US, offered to give him one of his kidneys after learning about his plight through updates on the social networking site Facebook.
The 41-year-old recently came to England for tests, which took place at Southmead Hospital in Bristol, and now the pair have been told the transplant can go ahead.
'Tip-top' kidney
Andy Williamson said: "It's fantastic news, I'm really happy. It turns out that we're a perfect tissue type-match.
"They would still go ahead even if we weren't, but it means it's less complicated for anti-rejection drugs, and also less complicated if I need another transplant one day in the future, it makes things easier.
"John's kidney function is all tip-top. In fact, most of the tests are to make sure that the risk of any long-term consequences for John is extremely low, as far as anyone can tell.
"We're all really excited and his flights are booked for November."
The medical and surgical teams will now get together to work out when the transplant will happen, although it is anticipated to be in November.
NHS payment
Andy Williamson said: "It's a timetabling thing. One of the advantages of living donation is that we have time to be organised, we can be prepared and plan carefully."
His cousin will fly to England for the operation from his home in Grand Rapids, Michigan, and the NHS will reimburse him for some of his costs.
The 44-year-old said: "It's discretionary; it works in different ways in different parts of the country, but yes, the NHS is going to pay for his travel costs and also a certain amount of lost earnings.
"It's a good economy for the NHS, because in the long run it's cheaper for me to have a transplant than to be kept on dialysis, which is anything between £20,000 to £40,000 a year.
"This is more expensive than a transplant which costs about £17,000 for the first year and then a few thousand pounds a year for drugs after that."