Virgin could take on Devon children care contract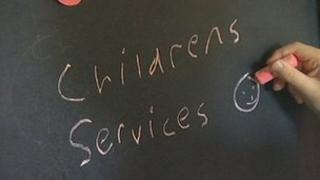 Virgin Care has been named as preferred bidder to run a £130m contract for children's services in Devon.
The company, which runs children's services in Surrey, could take over in March 2013 for three years.
It beat off competition from Devon Partnership Trust with Barnado's, Young Devon and Interserve and Serco with Cornwall Partnership Trust.
But a paediatric expert called the decision to privatise children's services "absolutely appalling".
'Less than perfect'
Stuart Logan, professor of paediatric epidemiology at the Peninsula College of Medicine and Dentistry in Exeter, said the NHS was one of the most cost efficient health providers in the developed world.
"These are some of the most vulnerable, most challenged children in our society and apart from the practical side, it just feels wrong that people should be making a profit out of providing services for these children," he said.
"While our service is less than perfect at the moment, at least all of us who work with these children are driven by trying to do the best we can for them."
"What worries me most is that as soon as you bring in a company whose principal aim is to make a profit, it changes the way you think about the service."
Currently, services are delivered by about 1,100 staff employed by NHS Devon and Devon County Council.
The NHS said appointing a single organisation to run all the services across the county would offer the best and most integrated care.
A Virgin Care spokesman said: "Clinical excellence is paramount.
"The brand brings with it good customer service and we believe we only provide services that are good enough for our own families."
'Many benefits'
Services for about 2,400 children with physical and sensory disabilities, children's mental health services and school nurses and health visitors will be affected.
The county council said the services had been put out to tender because of the government's national transforming community services directive in 2009, requiring all primary care trusts to become commissioning-only organisations.
That meant that NHS Devon could no longer provide these integrated services, according to the county council.
Child protection services will continue to be managed by Devon County Council.
Rebecca Harriott, director of commissioning development at NHS Devon, said: "Bringing together community-based health and social care staff has brought many benefits for children, young people, parents and carers.
"Keeping these services together and developing them further means finding the right provider with the right vision and commitment.
"Today's announcement is just one step towards this."