Totnes KEVICC parents complain about uniforms
2 July 2012

From the section

Devon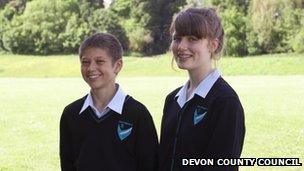 More than 50 parents have made a joint complaint to a Devon school, saying it should not bring back uniforms.
King Edward VI Community College, in Totnes, which has 1,700 students, abolished uniforms in 2003 but a recent report suggested the school was perceived as "scruffy".
Parent Mik Wells said 56 parents had signed the complaint letter.
The school said a consultation had come out in favour of uniforms but the policy would be reviewed in 2015.
'Sort out results'
The 450-year-old school, also known as KEVICC, includes a sixth form and a performing arts college. It recently got a "satisfactory" rating from Ofsted.
A report to governors raised concerns that perceptions of scruffiness were putting parents off sending children there and damaging the school's image.
Uniforms are to to be reintroduced in September as part of a new agreement.
The school said that a consultation had found about two-thirds of the 2,000 respondents were in favour of uniforms.
They included 55% of 861 current students who took part, it said.
'Controversial issue'
Parent Mik Wells said that, as well as the complaint, a mailing list against uniforms had a membership of about 100 parents.
He said they were refusing to sign the agreement over the uniform policy because "they need to sort out GCSE results and management first".
She said: "If they want to rebrand their logos, then let them. But don't rebrand my children".
He added that parents had not been informed as to what punishments would be administered for breaking the uniform code.
Student Alex Mockridge said she wanted to show that she "can get just as high grades" no matter what she wore.
She said: "I want to do what they tell me to do - which is explore, discover and achieve - whilst wearing what I feel I look smart and comfortable in."
Jane Collings, the chair of the board of governors, said: "We understand uniform is always a controversial issue, but uniform will be introduced during September 2012.
"Students have had an input into the design.
"The decision will be reviewed in three years' time."