Torbay head could shut Preston Primary over 'toxic dust'
28 June 2012

From the section

Devon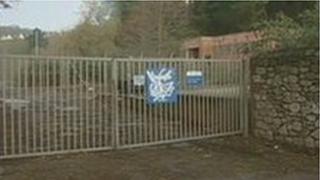 A head teacher in Devon has said he may shut his school because of fears about arsenic and cyanide contamination.
Russ Green, of Preston Primary School, said he is concerned about dust if plans for 185 flats at the former Hollicombe gas works are approved.
Torbay Council said talks were "ongoing" and the application would be considered next month.
Developer Linden Homes said it would not begin work unless "totally satisfied" its plans were safe.
In 2006, Torbay Council said a ground investigation at the former gas works site found elevated levels of cyanide and arsenic.
The school, which has 350 pupils, is located a couple of hundred metres above the site.
Mr Green said his main concern was about how dust would be monitored as the flats were being built and he wanted assurances that steps would be taken to limit the amount of dust.
He sent a letter to all parents of the Torbay School on 22 June informing them that "if I am not assured that the works are safe, I would have no alternative but to consider closing the school".
Mr Green told the BBC: "It's not a decision that we would make lightly it's a very serious concern.
"No one would deny that removing the toxins on the site would be a long-term benefit for the community. However, there's couple of fine details that are lacking that we want clarification and assurance on."
Parent Louise Benson said: "It's a very drastic thing that he's had to say but if he hadn't have said it we had told him we would withdraw our children anyway."
'Best approach'
In a statement, Torbay Council said: "Discussions are still ongoing between the school, developer and the local authority and this is the appropriate way of exploring views about the proposed development."
It added that the management of the school was a "matter for head teachers and governors".
A spokesman for Linden Homes said: "It's a fact that the site is contaminated and one of the benefits of the proposed development will be to remove the liability.
"We would like to reassure parents and staff that we would not begin work unless we were totally satisfied that our methods were the best possible."
It added that the Environment Agency and Torbay Council had seen and considered the proposals as the "best approach to carrying out the necessary work".
Torbay Council provisionally approved the plans in 2011 but the government requested an environmental impact assessment, the results of which will be discussed next month.