Call for 'parking angels' to help avoid Torbay parking fines
19 June 2012

From the section

Devon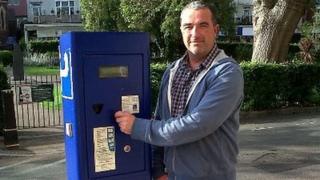 A Devon man is urging people to buy car parking tickets for those whose tickets are just about to expire.
Roger Clayton, 47, of Paignton, came up with "parking angels" idea after seeing a parking warden about to fine someone for overstaying their parking space.
He paid for a 50p ticket and put it on the windscreen of the car before the owner was fined and says if other people did the same, it could spread.
A Torbay Council spokesperson said it did not see the practice as a problem.
Painter and decorator Mr Clayton said he was once given a £25 parking fine for overstaying by seven minutes.
He said: "I was down the beach a few months ago and saw a traffic warden putting a ticket on a car so I just put 50p in the machine for a ticket for an extra 20 minutes, put it on the windscreen and walked off."
"Traffic wardens usually take two minutes before they print out a ticket.
"I am just saying that if people see a traffic warden standing by a car, just have a look at his ticket and, if it's running out, just put 50p in.
"My family and friends said they'd do the same. And if someone did that for you, you might do it for someone else."
Reaction on the streets of Paignton was mixed.
One woman said: "I would do the same myself. Why not if you can help someone out?"
Another man said: "They should buy the right tickets in the first place."
A spokesman for Torbay Council said: "Our guidelines require that a parking ticket is purchased and correctly displayed within the relevant parking conditions.
"As long as the ticket falls within these guidelines, we do not see this as a problem. There are, however, obvious logistic issues with placing a ticket on the outside of a windscreen."