Dance Academy drug club boss Manochehr Bahmanzadeh's new appeal
25 May 2012

From the section

Devon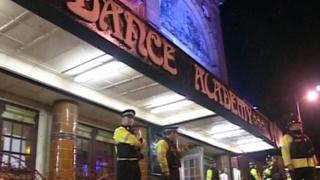 A Plymouth night club owner jailed for allowing drug dealing on his premises has again claimed he was the victim of a miscarriage of justice.
Manochehr Bahmanzadeh was sentenced to nine years in 2008, but has always protested his innocence.
A previous appeal failed, but his case has been referred to the Court of Appeal for review by the Criminal Cases Review Commission.
At a preliminary hearing, Mr Justice Nicol refused an application for bail.
Historic building 'dilapidated'
Defence counsel James Wood QC told the court that fresh evidence had been uncovered since the trial which "fundamentally undermined" the Crown's case that Bahmanzadeh had "deliberately permitted" the supply of class A drugs at his Dance Academy club in Union Street.
The club's general manager and DJ, Thomas Patrick Costelloe, who was convicted of the same offence and sentenced to five years, has also lodged his case with the review commission - an independent body that investigates suspected miscarriages of justice.
A previous appeal by Bahmanzadeh and Costelloe against their convictions and sentences was lost on both counts.
The court was told Bahmanzadeh was made the subject of a £1m confiscation order in 2010 under the Proceeds of Crime Act, which had been "paid in full".
Mr Justice Nicol said if Bahmanzadeh's guilty verdict was successfully overturned "every penny would be returned with interest".
Mr Wood said Bahmanzadeh had been "bombarded" in prison with letters from Plymouth City Council regarding the dilapidated condition of the historic Grade II-listed theatre and wanted his freedom so he could begin to implement a restoration plan.
Urging the judge for an immediate release, Mr Wood also said Bahmanzadeh had aged "remarkably" during his sentence and his health was "parlous".
If his client, now in his mid-50s, absconded before his appeal, Mr Wood said not only would it be dismissed but Bahmanzadeh would also forfeit the £1m he paid under the confiscation order.
Mr Wood said with "question marks over the safety of his conviction" and less than a year left to serve, it would be "fair" to release him immediately.
But Mr Justice Nicol said bail was only granted pending appeal in the "most exceptional cases"
'Zero tolerance'
However, recognising the need to hear Bahmanzadeh's appeal before his sentence expires, the judge said lawyers must "strive" to have the case ready for the hearing before the end of the summer.
"People have just got to their skates on," the judge said.
Bahmanzadeh and Costelloe were arrested after undercover police began monitoring the Dance Academy in December 2005, eventually sending in 140 riot police to raid the premises in May 2006.
A total of 16 drug dealers were later prosecuted and jailed for their activities at the club.
Bahmanzadeh and Costelloe both denied allowing the dealing to take place, claiming the Dance Academy had a "zero tolerance" drugs policy and they had done their best to stop it.
No date has been set for the appeal, which is expected to take three days.