Hallsands cliff landslip area inspected
8 May 2012

From the section

Devon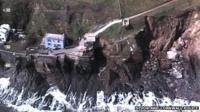 A holiday home and its surrounding area in Devon have been inspected by a council after a nearby cliff landslip.
Hallsands, mostly destroyed in another landslip in 1917, was cordoned off after a 200-tonne section of the cliff fell into the sea on Sunday.
A section of a stone barn collapsed into the sea and a viewing balcony started to slip.
Occupants of the Sea View holiday home, next to the barn, were evacuated. The home could also be in danger.
Weather worries
Sea View was bought by the Williams family in the 1960s and work was carried out to shore up the house.
Owner Peter Williams, who was spending the bank holiday weekend at Sea View with three other adults and two children, said he was resigned to the house slipping away "at some point".
The area was inspected by South Hams District Council earlier.
It said it wanted further assessments made of the safety of the viewing platform and a path leading to it.
The Conservative-led council said it had contacted the company which installed the platform to assess it.
Structural engineers are to attempt to assess the stability of the house.
'Highest waves'
However, there are concerns that there will be further landslips because more rain is forecast for later in the week.
Prof Gerd Masselink, a coastal geomorphology expert from the University of Plymouth, said he believed recent weather "had something to do with it".
He said: "In the days leading up to it, the waves were exceeding 3m (10ft), which were the highest so far this year; and they were shaking up the rock.
"It [a collapse] will happen again. We don't know when, but it's a coastline prone to it."