Kingskerswell bypass flyover 'will cause bottlenecks'
17 April 2012

From the section

Devon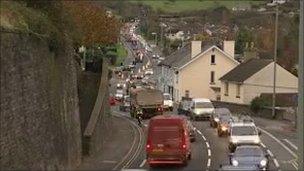 A single-carriageway flyover on a dual carriageway bypass in Devon will cause road problems in a scheme supposed to cut congestion, critics say.
The £110m Kingskerswell bypass is to link Torbay and Newton Abbot.
The 5.5km (3.4 mile) scheme includes the flyover, which will go over the Penn Inn roundabout in Newton Abbot.
Critics said the flyover would cause bottlenecks and ignored traffic demand. Devon County Council said it believed it was the appropriate size.
The government gave the go-ahead for the multimillion-pound South Devon Link Road last year after a 50-year campaign by local residents.
The government has awarded £76.4m towards the scheme, with Devon County Council and Torbay Council committing £33m and Teignbridge District Council contributing a further £500,000.
'No progress'
The county council hopes work will start in October and be completed by December 2015.
However, Newton Abbot South Liberal Democrat county councillor Gordon Hook said the proposed flyover would cause bottlenecks on a scheme supposed to be alleviating traffic problems.
He said a single-carriageway flyover was "illogical" and showed "no progress".
He said: "We're not building a road for today, we're not building road for tomorrow. This is a road that's going to be in place for 20, 40, 60 years.
"Who knows what the traffic situation's going to be like that far down the road."
Conservative-led Devon County Council said the single carriageway had been in the plans for 15 years, and that it was accepted it would be the right size for traffic demand.