Paul Conroy's wife says he will return to Syria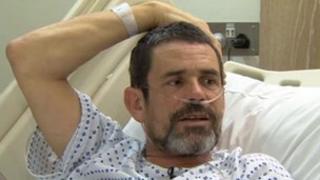 The wife of war photographer Paul Conroy, who was severely injured in Syria, says he is determined to return.
Paul Conroy, from Devon, suffered serious leg injuries in an attack on Homs in February in a shelling which killed two other journalists.
He was eventually smuggled out of Syria and has been in hospital in London for more than a month.
Kate Conroy said he would be a target if he went back now, but he would "definitely go back when it's safe".
Mrs Conroy said: "He is a hero to the Syrian people. We went to London for the first anniversary of the uprising a couple of weekends ago.
"He really is a hero to them and they can't thank him enough."
Mr Conroy, 47, who lives in Totnes but is originally from Anfield, Liverpool, was working for the Sunday Times when the media centre he was in was shelled by Syrian government forces on 22 February.
The same attack killed the newspaper's war correspondent Marie Colvin and French photojournalist Remi Ochlik.
Mr Conroy was smuggled to Lebanon by Syrian rebels before being brought back to London via the British Embassy in Beirut.
He is still being treated in hospital in London but is expected to become an outpatient soon.
Mrs Conroy said: "He is likely to be left with a limp, so he will not be so agile.
"But it is a small price to pay. A limp is better than being dead."