Work starts on clearing Scylla wreck net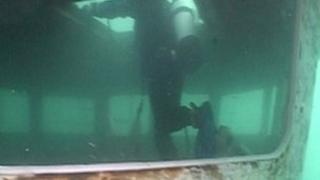 Divers have started removing a net which has snagged around a diving attraction off the coast of south Cornwall, endangering marine life.
The 100m (328ft) net has been caught around the wreck of HMS Scylla since November 2011.
Former Royal Navy frigate HMS Scylla was sunk in Whitsand Bay in 2004 to create the reef.
The National Marine Aquarium said the net had caused "significant loss of marine life".
The aquarium, which led the dive mission on Thursday, said the net had probably been set too close to the wreck, which is home to more than 250 species of marine life.
It has been advising recreational divers for their safety to avoid the area.