MP Adrian Sanders motion for South Devon bypass scheme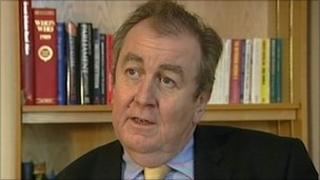 The government has faced fresh pressure to build a by-pass linking Torbay and Newton Abbot in Devon.
Liberal Democrat MP for Torbay, Adrian Sanders, tabled a Commons motion saying potential visitors were put off by poor transport links.
Plans have been submitted to the government to try to secure more funding for the road.
Opponents of the £110m bypass around Kingskerswell claim it would reduce trade in the by-passed villages.
During the motion, Mr Sanders said the area was a popular holiday destination, but the A380 and poor transport links were "a barrier to investment".
Making reference to the earliest known human remains discovered in Torquay, which date back more than 41,000 years, the MP said he hoped the area would not have to wait another 40,000 years for a by-pass.
The bypass was first proposed more than 50 years ago but was left out of the government road building plans in 2010.
'Improve road safety'
In September plans were submitted to the Department for Transport in the hope it could secure £76.3m of funding. A decision is expected in December.
The estimated cost of the bypass is £110m.
Devon County Council and Torbay Council said they would contribute £33m, while Teignbridge District Council said it would pay up to £500,000.
Those in favour of the bypass claim it is vital to the economy of south Devon and would also reduce congestion, improve air quality and improve road safety.
But opponents claim it would damage the village of Kingskerswell by stopping traffic travelling through it and disrupt the ecology of the surrounding countryside.
Opponents of the scheme said it was not a good use of public money in a time of austerity.
If the bid was successful, work could start in autumn 2012, with the bypass open by the end of 2015, Devon County Council said earlier.