Contraceptive injection for Dartmoor pony herd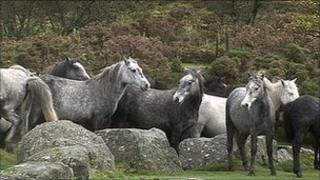 A Dartmoor pony herd is to get contraceptive injections in a bid to reduce the number of unwanted foals.
The Dartmoor Hill Pony Association says the foals are not in demand in the current economic climate and there are currently too many of them.
The injection will be given to 20 animals in the spring and if the trial is successful it could be expanded
"[It] is at the forefront of equine reproductive technology," said Jonathan Lamming, of Dart Vale Veterinary Group.
"I made inquires in Australia and America, because there are no drugs in the UK that will allow fertility control of horses."
The first batch of the drug has been donated by pharmaceuticals company, Pfizer, and imported from Australia.
The government has issued a special licence for the contraceptive drug to be imported into the UK.
'Something suitable'
Mr Lamming said: "If the product is successful it can be used in other native populations, such as the New Forest, Exmoor and Bodmin."
Charlotte Faulkner, of the Dartmoor Hill Pony Association, said the foals were a "by-product" and because of the economic climate there was not a market for them.
She hoped the project would avoid young unsold ponies being slaughtered.
"We are trialling the scheme to see if it has the advantages that we need," she said.
"I have been looking for a possible method of contraception for more than 10 years and this is the first time we have found something which is suitable.
"[The ponies] are a vital part of the ecology on Dartmoor... the way they graze in conjunction with the sheep and the cattle over thousands of years have created Dartmoor the way we know and love it," she added.