Hemerdon link road plan decision is deferred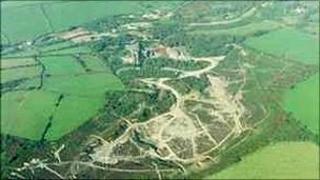 Plymouth planners have deferred a decision over road plans that would help pave the way for the reopening of a tungsten mine.
Australian company Wolf Minerals wants to develop Hemerdon mine at Newnham and start operations in 2014.
Plans include a link road between Lee Moor and Plympton. The mine may employ up to 300 workers, the firm said.
The city council deferred a decision until October so more information on the scheme can be reviewed.
Earlier permissions
The Conservative MP for Devon South West, Gary Streeter, wants the government to order changes to the road scheme because of local residents' traffic concerns.
He said it would create an "HGV hell" for nearby residents.
The MP has written to Communities Secretary Eric Pickles Pickles asking Mr Pickles to direct the planning authority to revoke planning permission granted in 1986.
The mine was first discovered in 1867 and mineral-working was carried out between 1919 and 1920 and again between 1934 and 1944.
Shortly after an application for a road was granted in 1986, the price of tungsten fell and Hemerdon mine was mothballed, but planning permission was deemed to have been started.
Mr Streeter, who lives in the area, said that when permission for the road was first granted, the site was across open countryside and not adjacent to the 1,000 homes which had since been built.
BBC SW Business Correspondent Neil Gallacher said Wolf Minerals could go ahead with some form of road, despite the Plymouth planners' deferral decision.
He said: "The company could simply decide to go ahead with both the mine and a road on the basis of earlier permissions."
Tungsten is used in metal-working, construction and in the manufacture of electrical equipment and light bulbs.