Exeter students climb mountains for forces charities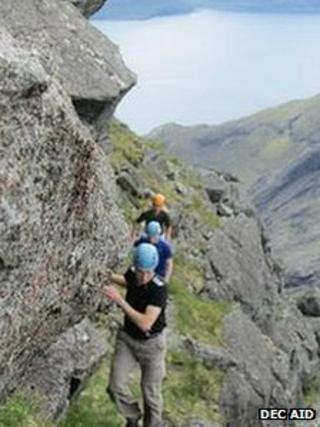 Two University of Exeter students have raised money for armed forces charities by climbing 283 mountains in Scotland.
Tom O'Connell, 24, from Looe, Cornwall and 21-year-old Alex Robinson, from Newbury in Berkshire, climbed the mountains - or munros - in 48 days.
The Munro Mission was part of the DecAid appeal to raise money for British armed forces charities.
The pair were joined by the relatives of armed forces personnel who lost their lives in Afghanistan.
During the climbs, each mountain was dedicated to a serviceman or woman killed there over the past 10 years.
The climb raised more than £33,000 for the charity appeal which currently stands at £100,000.
DecAid co-founder Rupert Laing said: "It's been pretty difficult and it's taken its toll, but they managed it anyway, which is amazing."
A Scottish mountain can only be classed as a munro if it is more than 3,000ft (914m) above sea level.
The Munro Mission saw the team climbing one munro about every four hours.
Ben More, on the Isle of Mull, was the first munro to be tackled on 1 August.
Limbless
Mr O'Connell and Mr Robinson reached the summit of Ben Hope - the most northerly munro - on Sunday afternoon.
DecAid was set up by people aged 25 and under to mark the 10th anniversary of British armed forces being in Afghanistan.
So far the Munro Mission has raised more than £31,000 and the DecAid total has almost reached £100,000.
All the money raised will be donated to the Soldiers, Sailors, Airmen and Families Association (SSAFA) and the British Limbless Ex-Servicemen Association (Blesma).
Mr O'Connell and Mr Robinson are now both due to head back to Exeter, where Alex is due to start the third year of his economics degree.