Goshawks found poisoned near Exeter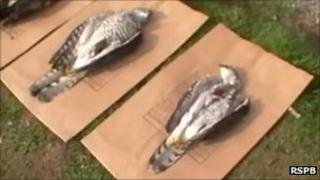 Four rare birds of prey have been discovered poisoned in Devon, the RSPB said.
The goshawks, found dead in woods to the west of Exeter, were deliberately poisoned with a banned pesticide, the society said.
A poisoned buzzard was also found nearby, it added.
The charity said there were only 20 pairs of goshawks in the county. Devon and Cornwall Police are investigating the incident.
'Significant percentage'
All birds of prey are protected under the Wildlife and Countryside Act, but, because of of their low numbers, goshawks are provided greater protection, according to the RSPB.
Due to a reduction in forests, goshawks became extinct as a breeding species in Britain at the end of the 1800s.
The current breeding population is increasing in the UK and originates from birds that escaped captivity or were deliberately released.
Recent forest management has also helped the species to survive.
However, despite the population increase, there are believed to be only 410 pairs of nesting goshawks in the UK.
RSPB investigations officer Mark Thomas said the incident in Devon was "truly shocking".
He said: "To find just one dead goshawk in these circumstances is dreadful.
"But to find four and a buzzard is unprecedented, especially when you consider that they have been deliberately lured to their deaths."
Devon and Cornwall Police wildlife crime officer PC Josh Marshall said: "These four goshawks represent a significant percentage of the Devon population and it's a huge setback for what is a magnificent bird."