Plymouth City Council pays £200k on America's Cup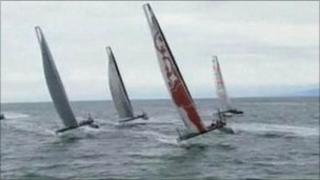 The America's Cup is costing Plymouth City Council up to £200,000 in support costs, a Freedom of Information request by BBC News has revealed.
The council said the money had paid for facilities which included pontoons, stages and toilets.
It said it could not reveal how much, if anything, it had paid to organisers to secure the event in the first place.
The second round of the world series sailing event will take place from 10 to 18 September in Plymouth Sound.
Tens of thousands of people are expected to watch the teams compete.
It is the first time the event has been held in Plymouth.