America's Cup cost defended by Plymouth City Council
30 August 2011

From the section

Devon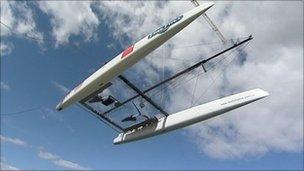 The cost of bringing the America's Cup to Plymouth has been "money well spent", the leader of the city council has insisted.
The yachts are due to begin racing in Plymouth Sound on 10 September.
Suggestions that it could cost up to £500,000 to stage have been rejected by Vivian Pengelly, who said the council had budgeted £100,000.
Plymouth City Council has estimated the second leg of the world series could generate £10m for the local economy.
It said providing accommodation for the teams alone - 700 beds for 20 days - will benefit local hoteliers by £1.2m.
The council has previously said it could not disclose the "fee" it paid to host the event in the city.
Devon sailor Conrad Humphreys said staging the America's Cup could cost the council "at least" £500,000, but Mrs Pengelly said that was "not quite true".
"It's not going to cost nearly as much as we thought, because we've got so much sponsorship from people like the university and business, who've been absolutely fantastic," she told BBC News.
"It can cost anything up to £100,000, but until we know exactly what sponsorship we're getting, we're not really sure what the cost will be."
A media city has been set up on Plymouth Hoe where a 100-strong television crew will beam the competition across the world.
The nine 45ft (14m) catamarans taking part in the challenge have been unloaded from a cargo ship which arrived in Millbay Docks last week.
An estimated 150,000 people are expected to watch the newly designed AC45 racing yachts from vantage points all around Plymouth Sound.
Peter Greenhalgh, a British sailor who will be competing on board the French catamaran Team Energy, said the boats were fast and the racing would be close.
"The public are going to see quite a spectacle," he told BBC News.
"The boats are very easy to identify and I think they'll find it enjoyable viewing."
Mrs Pengelly said staging the America's Cup was an opportunity to showcase Plymouth to the world and the cost was "money well spent".
"Everyone's getting very excited about it and there's a real buzz around the town," she said.
Entertainment programme
The first stage of the series took place earlier this month in the Portuguese town of Cascais and the final leg of the qualifying event will be held in San Diego, California, between October and December.
Visitors will also be able to enjoy a full programme of entertainment over the 10-day event, including live music, food, shopping and a yacht racing simulator.
The America's Cup is named after the yacht America which sailed from the east coast of the United States in 1851 to race against British yachts.
America won the race and the trophy was donated to the New York Yacht Club under a Deed of Gift that still governs the competition.