Plymouth Pavilions ice rink stays open another year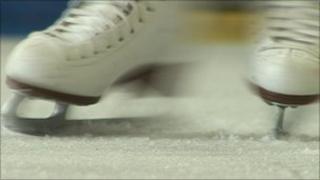 Ice skaters in Devon and Cornwall have been thrown a life-line, with Plymouth City Council's decision to keep the city's ice rink open for another year.
The Pavilions ice rink and leisure pool were due to close in February when Plymouth's new Life Centre opens.
The £46m centre at Central Park will have a pool, but plans to include an ice rink were abandoned last year.
The council has approved the funding to keep the rink open while it considers bids to buy the Pavilions.
The ice rink is used by skaters throughout the South West. If it was to close, skaters would have to travel to Bristol or Swindon.
The building, which is subsidised by the council, is currently operated by the Theatre Royal (Plymouth) Ltd.
Bidding shortlist
The council said it had been exploring options on how to provide an improved, full-size ice rink and arena - either redeveloped on the existing site or elsewhere in the city.
A notice placed by the council in the Official Journal of the European Union, inviting expressions of interest in buying the freehold on the Pavilions site had generated considerable interest.
"We have selected a shortlist of bidders to go through to the next stage of the procurement process," a council statement said.
In order to fully assess the options available, the council's cabinet has approved funding of £800,000 to keep the ice rink open until the end of September 2012.
The Theatre Royal will continue to manage the ice rink on the council's behalf.
"This will not only ensure that ice skaters have continued access to a rink but also provide greater job security for staff at the Pavilions while plans for a new rink and arena are developed," the statement concluded.