Plymouth Argyle fans' vigil to highlight club's plight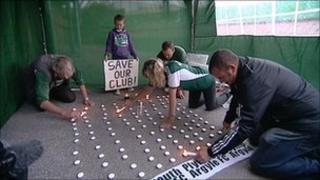 Plymouth Argyle fans are holding a vigil to highlight the club's plight.
The club is the subject of a takeover bid by Gibraltar-based firm Bishop International, but the deal has not been finalised.
To close the deal, it must come up with about £6m by Friday.
A group of fans began the vigil at 18:00 BST on Wednesday and will continue until 15:00 BST on Saturday - when the team is due to play Crewe.
Argyle fan Leigh Rapson told BBC News the club was "on the brink of collapse".
Candle ceremony
"Unless the money is found... it is likely the administrator will liquidate the club and 125 years of history will be erased," Mr Rapson said.
"Our club could die on Friday."
He said the aim of the peaceful vigil was to raise awareness nationally and locally of the club's plight, while at the same time "put pressure" on the administrator Brendan Guilfoyle and the senior partners at P and A Partnership to ensure the club's survival.
"We need him to know that we do care and we won't just sit back and let them pull the plug."
Mr Rapson said between 30 and 40 fans would be taking part in the action.
As part of the vigil, fans plan to light 125 candles - each candle representing a year of Plymouth Argyle's history.
Earlier the club's acting chairman, Peter Ridsdale, told BBC Sport that a deal "has to be done this week."
"We're working on assumption that it will but I'm not the man with the chequebook."
Prior to the vigil, a small group of Argyle fans marched through the city centre.
Mr Guilfoyle told BBC News: "We are working to complete the deal by Friday."