Unison threatens Plymouth City Council legal action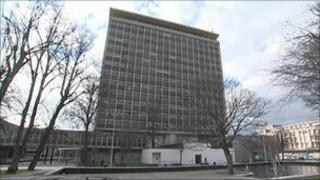 A union is threatening legal action against Plymouth City Council after the authority de-recognised it.
The de-recognition came after Unison refused to sign an agreement over new pay and conditions which it said would discriminate against some staff.
The council said the changes would save £18m over three years.
The union said its lawyers had written to the council to raise a number of legal challenges to its decision last week and invited it to respond.
The union said, if the council did not respond, it may start legal proceedings.
'Defending the indefensible'
Unison leaders said they had refused to sign the deal because it was discriminatory, would see wages cut and they needed to protect members and services.
Unison said the council was "becoming increasingly isolated in its defence of the indefensible".
Unison South West regional secretary Joanne Kaye said: "The only sensible solution is for the council to restore recognition and let us get back to the negotiating table and find a solution we can all support.
"We are being condemned for standing up for our members and standing firm against pay cuts - but that is our role as a trade union, and the council needs to understand this."
The council said the proposed changes would help save jobs and improve staff equality.
Councillor Ian Bowyer, the cabinet member for finance, property and people, said he was "still hopeful that we can come up with a solution that is acceptable to all".
He added: "But I do have to emphasise that there is a ticking clock here.
"We do need to get a solution in place as quickly as possible in order to minimise job losses."