Dartmouth and Torbay regattas hit by Red Arrows death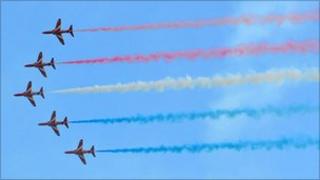 The RAF's Red Arrows display team is unlikely to appear at two Devon regattas following the death of one of its pilots.
Flt Lt Jon Egging, 33, was killed when his Hawk T1 aircraft crashed after a display at Bournemouth Air Festival on Saturday.
The Red Arrows had been due to fly at the Torbay Royal Regatta on Wednesday and Dartmouth Royal Regatta on Friday.
But the fleet has been grounded while the crash is investigated.
David Selley, the chairman of Torbay Royal Regatta, said: "We give our condolences to the pilot's family and his colleagues.
"The official stance at the moment is that the Red Arrows have not cancelled, but we think it is highly unlikely that they would fly.
"We have finished our regatta for the last 22 years with the Red Arrows display and everyone knows it is magnificent.
"It's such a shame that this has happened and it will obviously disappoint a lot of people."
Hilary Batstone, the chairman of Dartmouth Regatta Week, told BBC News: "This town would have been choc-a-bloc with people trying to get in here to see the display.
"It will be a big loss, they are a major attraction... the big draw for the crowds."
A minute's silence is due to be held in Dartmouth on Friday at 18:00 BST in memory of Flt Lt Egging.
A campaign has also started in the town for people to wear red as a tribute.
The Red Arrows have being flying at the Dartmouth Regatta since 1978, but all RAF Hawk T1 aircraft have been taken out of service as part of a national grounding of the fleet after the Bournemouth crash.
Flt Sgt Jason Aylett, Dartmouth Regatta's air display director, said: "It would be wrong to speculate at this moment in time.
"We wait for the results of the investigation into the incident.
"Once the causes are received the Red Arrows will make a decision on what holds in store for the rest of the season."
In Cornwall, RNAS Culdrose, near Helston, said that its Hawk aircraft were currently not flying, but that was because crews were officially on leave this week.
There are about 14 Hawks at the Royal Navy station used for training.