Royal Navy frigate, HMS Somerset sent to African coast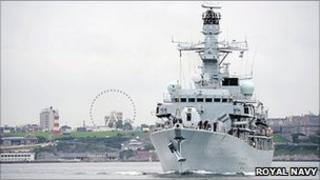 A Plymouth-based frigate has been deployed to assist maritime security off the Horn of Africa.
HMS Somerset left Devonport on Wednesday for a six-month deployment.
The Royal Navy said the Type 23 frigate would defend worldwide trade routes, patrol the Gulf and assist in military operations.
HMS Somerset is expected to return to the UK in February 2012. The frigate has previously been deployed to the Mediterranean and the Gulf.
HMS Somerset's commanding officer, Paul Bristowe, said: "My ship's company are well prepared and looking forward to the challenges that lie ahead."