New Exeter M5 bridge opens to cyclists and pedestrians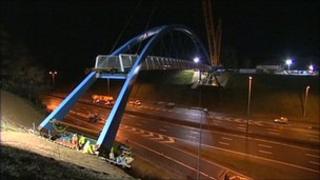 A bridge for cyclists and pedestrians across the M5 in Devon has been officially opened at a cost of £3.75m.
The Redhayes Bridge near Junction 29 links Exeter and a new science park, which is under construction.
It will also provide a route to the proposed town of Cranbrook, its 2,900 homes as well as schools and shops.
The Redhayes Bridge is part of the Exeter Growth Point, a £5.5m regeneration project which includes Cranbrook and the science park.
Councillor Will Mumford, Devon County Council's member for economy, enterprise and employment, said: "We can all take heart that work is continuing apace on the improvements at Junction 29 - all of which points towards a brighter outlook for Devon's economy."