Dartmoor National Park says incinerator 'unacceptable'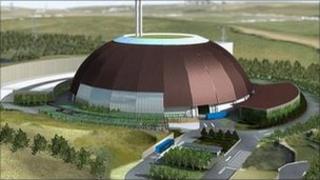 Dartmoor National Park has objected to plans for a nearby waste incinerator.
Viridor is asking South Hams District Council for permission to build an energy from waste (EfW) plant at the New England Quarry near Lee Mill.
The park authority said the plant, 3.4km from the park, would have an "unacceptable impact" on the area and affect a colony of bats.
Viridor said the authority was over-reacting to the proposals.
A report by national park officers says: "The proposed EfW facility would be visible from a number of sensitive locations within the Dartmoor National Park which would draw the eye as a large isolated industrial structure in an area of predominantly rural character.
"Views into the national park would also be impacted by the proposal.
'Over-stated reaction'
"It is therefore considered that the development would have an unacceptable impact upon the landscape character of the area."
A road to the site would also go through ancient woodland, home of barbastelle bats, classified as "near threatened" by the 2008 International Union for Conservation of Nature Red List.
Howard Ellard, from Viridor, said: "The report itself says you can see a lot of things from the park, notably Plymouth.
"I think it's an over-stated reaction to development that is over 3km from the edge of the park boundary.
"If you were to follow that logic there would never be any development that you could see from the national park."
The South West Devon Waste Partnership, comprising Devon County Council, Plymouth City Council and Torbay Council, is backing plans for another incinerator at North Yard in Plymouth.
The plant will burn about 275,000 tonnes of commercial waste a year from Plymouth, South Hams, Teignbridge, West Devon and Torbay according to Viridor.
The plans follow pressure on local authorities to reduce reliance on landfill sites and increase recycling.