Paignton Zoo's elephant Duchess has glaucoma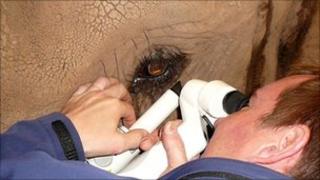 Paignton Zoo's African elephant has been diagnosed with the eye condition glaucoma.
Duchess, who weighs four tonnes, has started a course of treatment to prevent the condition from worsening.
Glaucoma is a progressive eye condition which if untreated can lead to blindness. The zoo said she would be monitored closely and medication should help control the condition.
The zoo said it hoped with treatment she could live with glaucoma.
Glaucoma sees fluid pressure in front of the lens and iris and behind the cornea increase.
Ghislaine Sayers, head of veterinary services said staff had noticed changes to Duchess' right eye.
She said: "We are using eye drops to try and decrease the pressure.
"It's the same way glaucoma is treated in humans."
Duchess, who is the zoo's only elephant, has had cataracts in both eyes for some time. She has been given anti-inflammatory eye drops to help treat the glaucoma.
The keepers have trained Duchess to lower her head so that they can administer the drops.
Neil Bemment, curator of mammals, told BBC News: "Being able to manoeuvre Duchess with her full co-operation makes everything so much easier for her and for the animal staff.
"With treatment, people and animals can live with this condition and we have every hope that Duchess can too."
In March 2010 the zoo's Asian elephant, Gay, was put down after developing severe foot problems.