Plymouth potholes hotline gets thousands of calls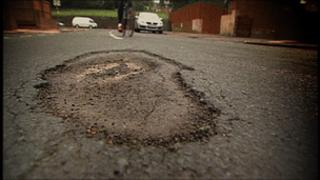 A Devon council received more than 5,000 complaints to a pothole hotline in nine weeks.
Plymouth City Council was set up a 24-hour hotline on 1 January and by 6 March it had received 5,290 calls.
The council said 92% of the potholes had been fixed, mostly with a temporary repair, within 24 hours.
It estimated that it would have to spend about £230,000 above the budget of £470,000 to fix potholes in 2010/11.
The sudden plunge in temperatures over the past two winters and the subsequent thaws have caused many potholes in city roads.
Plymouth City Council said the majority of reported potholes were given a temporary repair as a short-term measure until a permanent repair could be done.
A council spokeswoman said: "The problem is that fixing main roads means we have to break up the flow of traffic, so most are temporary to keep traffic moving.
"We are continually working to improve the roads.
"This is a massive job and we are doing our best."
People can report a pothole 24 hours a day, seven days a week by calling 01752 668000 or by going online.