Wildersmouth bathing water status at risk from council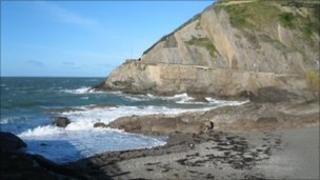 Wildersmouth beach at Ilfracombe could have its designated bathing status removed by its own council because it risks not meeting European standards.
If beaches do not meet new, tougher regulations by 2015, local authorities would have to display warning signs that the water was not fit to swim in.
Rather than allow that to happen, North Devon District Council is considering removing the bathing status altogether.
It believes "unfit water" signs would have have a negative impact.
The tougher European Commission (EC) directive sets out four new standards of water quality - excellent, good, sufficient and poor - and all bathing waters will be expected to achieve at least the "sufficient" classification by 2015.
Bathing water quality will be assessed for the EC by the Environment Agency.
Councillor Mike Edmunds told BBC News de-listing Wildersmouth beach would be the best solution.
"It's so poorly used by bathers and swimmers, and the district council is looking at investing a large amount of money in the area.
"The worst thing that could happen is if the beach failed... because signs saying 'poor quality' would be detrimental to the tourist area."
But the move being considered by the council has been criticised by the environmental campaign group, Surfers Against Sewage (SAS).
Spokesman Andy Cummins said without bathing water status, there would be no "legal driver" to improve the quality of the water.
"You are effectively giving up on the beach," he said.
Mr Cummins said poor water quality was a hazard to health and should be dealt with.
In Cornwall, the council said it did not intend to de-list any beaches.
Instead, it is working with the the Environment Agency, South West Water, Surfers Against Sewage and the Health Protection Agency to improve the seven beaches considered at risk of not meeting EC standards.