Last Plymouth-London plane takes off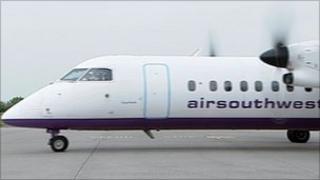 The last flight between Plymouth and London has taken off.
Air Southwest is ending the Plymouth to Gatwick route - which goes via Newquay - as new owner Humberside-based Eastern Airways is seeking to cut costs.
The airline is blaming falling passenger numbers and high landing fees at Gatwick for the cut.
The move means no airlines will offer flights from Devon to the capital. It also sees Air Southwest axing its Newquay to Gatwick flights.
The flight left Plymouth at 1630 GMT, flew to Newquay and then departed for London from Cornwall at 1705 GMT.
Air Southwest, which was founded in 2003, scrapped its service to London City Airport last May.
Airport's days 'numbered'
Flybe will become the only airline offering a London service from South West England, with its flights from Newquay to Gatwick, but no flights from Devon.
The Devon and Cornwall Business Council described Air Southwest's decision as "inevitable", but a "major blow" to the economy in both counties.
Last week, Plymouth's Chamber of Commerce said its final attempt to persuade Air Southwest to maintain the London link failed.
Business leaders and local economists have said they now fear for the future of Plymouth Airport itself because of the cutting of the route.
Professor Peter Gripaios from the University of Plymouth said he believed the airport's days were "probably numbered".
He said: "It's never really had enough of a catchment area. The population isn't really big enough - you need about four million people in an area.
"It's being squeezed by flights into Newquay and Exeter, and even more probably by the fact that Easjyet and Ryanair have loads and loads of flights going out of Bristol."
Airport owner Sutton Harbour Holdings said the the airport has made losses, but said it had no intention of making knee-jerk reactions based on the loss of one route.
The city has had an operational airport at its current location since 1925.