Rapist Keith Williams release condemned by victim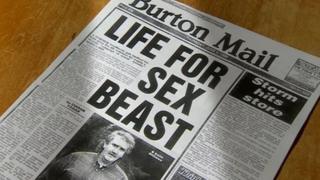 A woman raped over several years by a paedophile says she will fear for her safety when he is released.
Keith Williams, 56, from Swadlincote, was given five life sentences in 1999 but it has been confirmed he will shortly be released from prison.
The woman, first attacked aged eight, said those who freed him would "bear the responsibility when he reoffends".
The Ministry of Justice said prisoners were only released if it was satisfied they did not pose a risk.
Williams raped the woman, who cannot be named, over a period of several years in the late-1970s and early-1980s but he finally faced justice when she was persuaded to go to police.
'Monster, not a man'
Now she has been told the Parole Board has agreed to release him.
She said: "This is a monster, not a man. He's not just a paedophile, he's a rapist, he is violent, he is evil, he is just a monster.
The woman said Williams had managed to send her threatening messages, such as "This isn't over", from within prison.
The Ministry of Justice said a "robust risk management plan" would be put in place, including an exclusion zone of about 20 miles around the area where the woman lives.
However, she said: "You are not talking about a law-abiding citizen, you are talking about a monster who lives by his own rules and believes in his own lies.
"People need to be aware so they can be vigilant and stay safe, because this man is very dangerous and whoever is responsible for releasing him, well, they will be responsible when he reoffends."