Shrovetide football game ends with win for Up'ards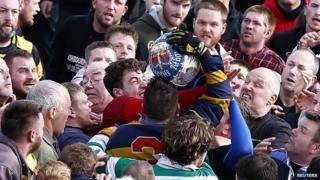 A Derbyshire town's annual Shrovetide event, which sees hundreds taking part in an unruly football-like game, has ended with a win for the Up'ards.
The game, which takes place in Ashbourne, dates back hundreds of years although records only begin in 1890.
On Tuesday, hundreds watched the first day's play, which ended with the Up'ards one goal ahead.
The Up'ards then goaled again on Wednesday to clinch victory over the Down'ards'.
The two sides are defined by which side of the River Henmore their players are born.
The game starts when someone throws the ball into the crowd - known as "turning up" - an honour bestowed on both Prince Charles and Brian Clough in the past.
Competitors then battle for possession of the hand-painted cork-filled ball as it breaks from the hug with the aim of "goaling the ball" by banging it three times against one of two old millstones - at either Clifton or Sturston.
The game even has its own song, which features the line: "Tis a glorious game, deny it who can that tries the pluck of an Englishman".
Dan Naylor goaled the ball at Sturston Mill shortly after 19.00 GMT on Tuesday, with Chris Keeling securing victory with a goal earlier on Wednesday.