Chesterfield second-hand shop wins pun competition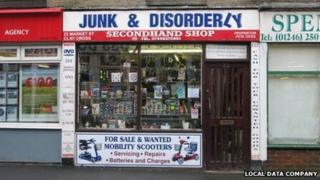 A Derbyshire second-hand shop has come first in a public vote for having the best pun name.
'Junk & Disorderly', on Market Street, in Chesterfield, was one of 10 shops shortlisted from across the country.
The Local Data Company (LDC), which monitors retail trends in the UK, selected the 10 best shop puns from the 700,000 businesses it visited in 2013.
The shop won £100 for the charity of their choice, with Prostate Cancer UK being selected for the prize donation.
Junk & Disorderly received over 33% of the public vote to win the title Shop Pun of the Year.
Pete Yates, 51, who has owned the shop for more than 15 years, said he was "shocked" to find out he had won.
"I'd never heard of this competition, but I'm glad the money will go towards a good cause - a men's cancer charity," he said.
"When I call companies about any shop dealings they always have a laugh about the name and say they like it," he added.
Matthew Hopkinson, director at the Local Data Company, said: "Whilst a shop pun competition is fun there is sound sense as to why they exist.
"Independents are about being different, being recognised and ensuring that you can survive through regular customers coming through your door and spending money.
"Having a memorable name alongside excellent service and products is an important way to retain the uniqueness in many of our high streets."