'Love at first sight' for retirement home couple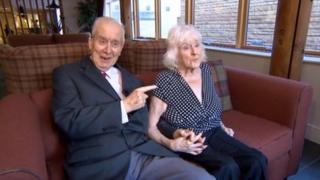 A couple who met at a retirement complex four months ago are getting married after being introduced by their 100-year-old friend.
Harold Gough, 79, said he "chatted up" Mary Shingler, 80, when she was "a little bit merry" in the bar of Oakland Retirement Village, Derbyshire.
She was sitting with centenarian Elsie Payne, who will be maid of honour at their wedding later.
Mr Gough proposed a month after they met, but did not get down on one knee.
'Never too late'
"If I get down on my knees I have a hell of a trouble getting back up again," he said.
It will be the first time Mr Gough has married, while Ms Shingler said it would be "third time lucky" for her.
Ms Shingler said it was love at first sight when they met at the retirement complex in Swadlincote.
Mr Gough said: "I came down to have a drink at the bar, and who should be sitting there, was Mary and her friend.
"She was a little bit merry; she had had two drinks."
Ms Shingler said: "It is never too late to fall in love. If you find the right person, go for it.
"We are that fond out of each other now we can't live without each other."